Oops.. That's what these celebrities must have thought when they realized someone else was wearing the same clothes as they were. Let's take a look at some of these bloopers and decide which celebrity did a better styling job.
Eva Longoria vs Lindsay Lohan
I think Eva Longoria looks better in this pink, strapless dress. Her skin tone fits the color of the dress and Lindsay's panty and shoes look out of place, whereas Eva's shoes look pretty.
Demi Lovato vs Paris Hilton
Surprisingly, I'm going with Paris. They both look good in the dress and they styled it very similar, but Paris' body looks great and I like her necklace better.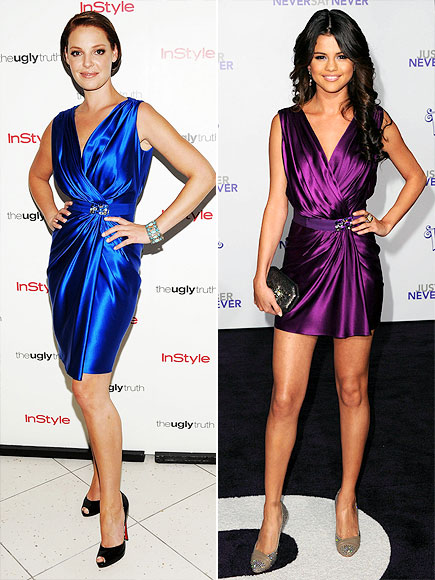 Katherine Heigl vs Selena Gomez
I like Selena's look better than Katherine's. I love the way her hair looks and I also really like the length and color of the dress.
Kim Kardashian vs Zoe Saldana
Definitely choosing Zoe. The dress doesn't flatter Kim's figure at all while it does flatter Zoe's.
Reese Witherspoon vs Jessica Simpson
Going with Reese. They both chose for black pumps and no accessories, but I like the dress better without the belt Jessica put on.
Who do you think dressed better?